The Earthquake - God's Perfect Timing

"At that time His voice shook the earth, but now He has promised, 'Once more I will shake not only the earth but also the heavens.' The words 'once more' indicate the removing of what can be shaken - that is, created things - so that what cannot be shaken may remain." Hebrews 12:26-27 (NIV)

"The Lord is not slow in keeping His promise, as some understand slowness. He is patient with you, not wanting anyone to perish, but everyone to come to repentance. But the day of the Lord will come like a thief. The heavens will disappear with a roar; the elements will be destroyed by fire, and the earth and everything in it will be laid bare." 2 Peter 3:9-10 (NIV)

The headline below appeared in The Press the day BEFORE the magnitude 7.1 earthquake. The earthquake occurred at precisely 4.36am the FOLLOWING morning when most people in the city were sound asleep in their beds. As a result there were no fatalities that could be attributed directly to the earthquake. Praise the Lord for His perfect timing!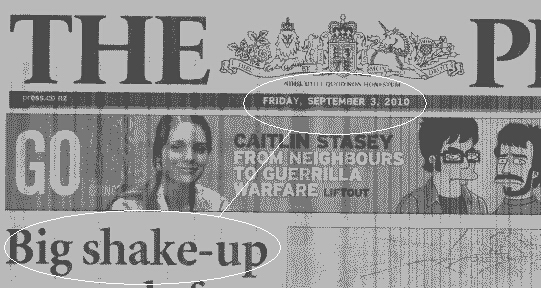 Wikileaks - Fulfilment of the Lord's Prophecy

Jesus said "There is nothing concealed that will not be disclosed, or hidden that will not be made known. What you have said in the dark will be heard in the daylight, and what you have whispered in the ear in the inner rooms will be proclaimed from the roofs." Luke 12:2-3 (NIV)